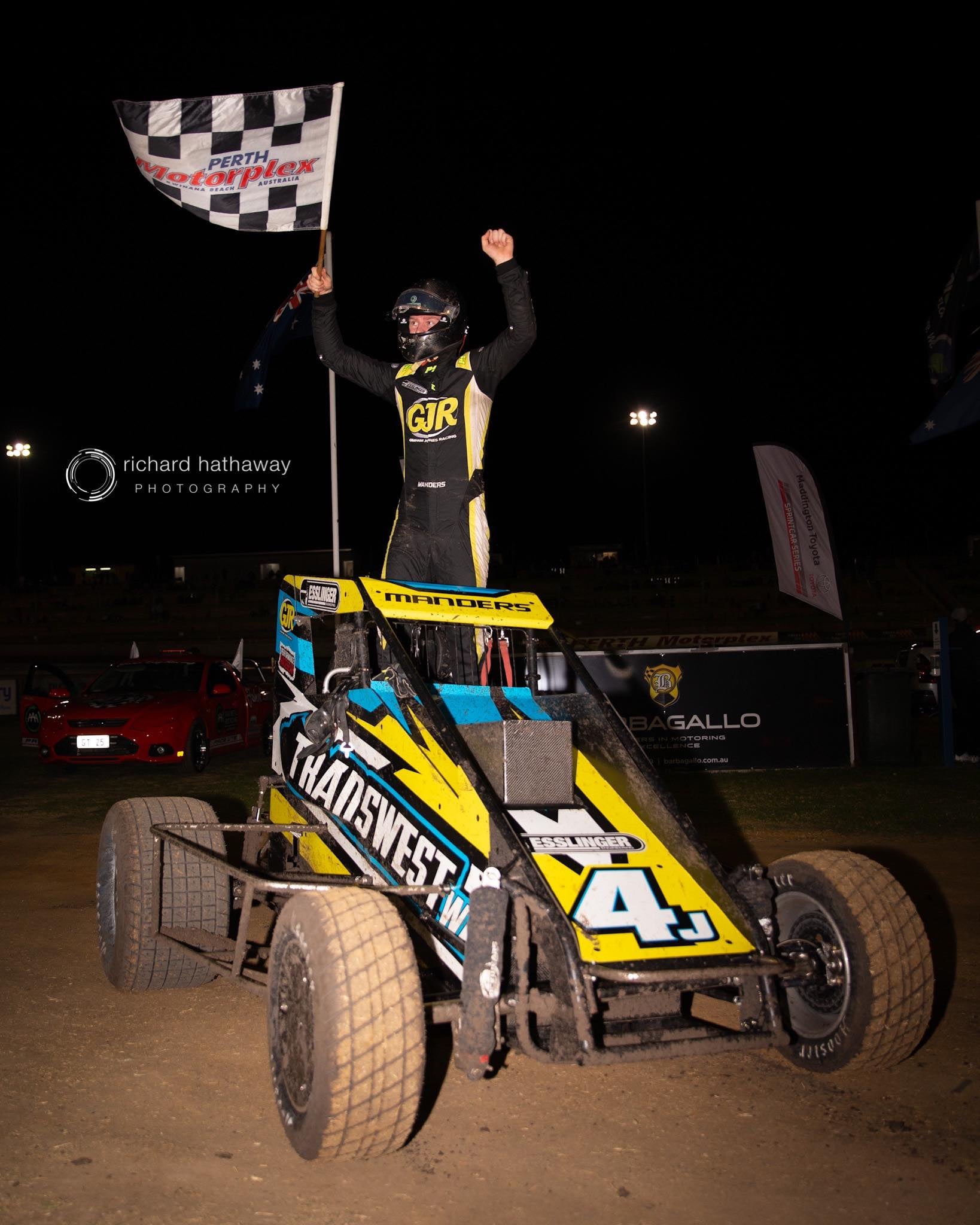 Kaiden Manders tonight has reached a career milestone at the Perth Motorplex, recording his twentieth career win at the venue as he claimed victory in the final twenty lap Speedcar feature race of season 2021/22.
Manders was strong all night and qualified on the front row for the feature alongside the impressive Lee Redmond, the duo both recording a win and a second place in their heat races, while Dan Golding and Tom Payet formed a formidable second row.
Manders got the jump as the race went green, but found himself going high through turn two, which allowed Redmond to scoot back underneath him for the lead, with Tom Payet just behind them.
Cars continued to fight for position across the track but unfortunately for a couple it came undone in turn one, Cory Smith lucky to not suffer any damage as Ross Heywood found himself going upside down in turn one to bring out the red lights while Beau Doyle was also involved and unable to restart in a rare DNF for the youngster.
Redmond would lead away Manders and with just one more lap in the books Tom Payet also suddenly slowed and headed infield, seeing Travis White elevated into third place.
Redmond and Manders pulled away from the rest of the field and began waging a battle, trading positions on the track multiple times before Manders finally grabbed the lead on the sixth circulation.
The field began to spread out from here, equal distances between each car as Manders continued to lead Redmond, White, Dan Golding, Russell Taylor and the rest of the field.
Keenan Fleming would pull his machine to the infield on lap eleven, followed by Rob Golding aboard the Wayne Cover #9 a lap later, and then the yellows came out another lap later for Russell Taylor who slowed on the main straight, his race also over.
Just seven cars remained for the restart and Manders wasn't messing around, pulling away from Redmond once again, followed by White, Dan Golding, Patrick Watson, Vaughan Manders and Cory Smith.
The only positional change in the final laps was Vaughan Manders passing Watson, but ultimately Kaiden went on to claim his twentieth career Perth Motorplex feature race and his fifth of the season, ahead of Redmond and White.
Despite the DNF, Tom Payet did enough to hold on and win the Perth Motorplex Track Championship ahead of Kaiden Manders, with Beau Doyle holding down third place overall.
With tonight's event now complete, it brings the racing side of the 2021/22 season to a close, with just the annual Awards Night remaining! That event will be held in a few weeks' time, so stay tuned for further details.
Release by DTN Media.
Pics Courtesy Richard Hathaway Photography and WASDA Media.
Official Results
Heat One, 8 laps: 1. Daniel Golding, 2. Lee Redmond, 3. Rob Golding, 4. Tom Payet, 5. Russell Taylor, 6. Travis White, 7. Keenan Fleming, 8. Vaughan Manders. DNS: Patrick Watson. Total Time: 2.12.348. Winning Margin: 1.366. Fastest Lap: 16.275 Daniel Golding.
Heat Two, 8 laps: 1. Lee Redmond, 2. Kaiden Manders, 3. Tom Payet, 4. Daniel Golding, 5. Rob Golding, 6. Beau Doyle, 7. Vaughan Manders. DNF: Cory Smith (3). DNS: Ross Heywood, Glen Mears. Total Time: 2.07.643 RECORD. Winning Margin: 1.641. Fastest Lap: 15.813 Lee Redmond.
Heat Three, 8 laps: 1. Kaiden Manders, 2. Travis White, 3. Keenan Fleming, 4. Russell Taylor, 5. Beau Doyle, 6. Ross Heywood, 7. Cory Smith. DNS: Glen Mears, Patrick Watson. Total Time: 2.09.527. Winning Margin: 3.409. Fastest Lap: 15.820 Kaiden Manders.
Feature, 20 laps: 1. Kaiden Manders, 2. Lee Redmond, 3. Travis White, 4. Daniel Golding, 5. Vaughan Manders, 6. Patrick Watson, 7. Cory Smith (19). DNF: Russell Taylor (14), Rob Golding (13), Keenan Fleming (11), Tom Payet (2), Beau Doyle (1), Ross Heywood (1). DNS: Glen Mears. Total Time: No Time. Winning Margin: 1.269. Fastest Lap: 15.970 Lee Redmond.