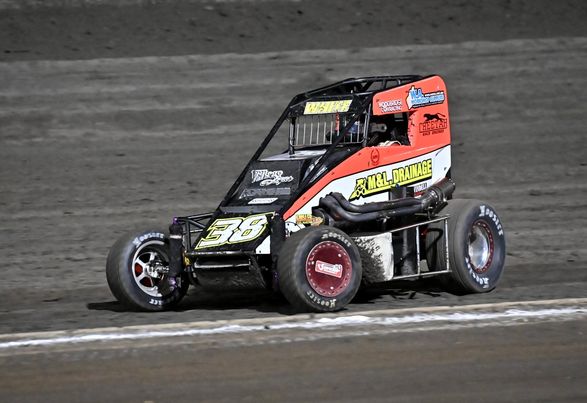 The time has finally arrived for the 2021/22 season to come to a close and with a strong seventeen car field nominated for this Saturday night's Grand Final show at the Perth Motorplex, the season is set to finish with a bang!
With a total of fifteen feature races already being conducted this season for Speedcars across the State, and six drivers sharing those wins, it will be interesting to see if any of the previous winners can notch another victory or if someone new will find their way onto the top step of the podium.
Tom Payet leads those stats with six feature wins this season and in turn leads the Perth Motorplex Pool Shop Group Speedcars Track Championship, with enough points that he only needs to show up to claim the overall victory. Of course, despite those facts, Payet and the Bennett Motorsports team will certainly not be resting on their laurels and will settle for nothing less than a victory.
Kaiden Manders has four feature wins this season and sits in second place overall, missing a round in early January proving to be costly. Despite that blip in proceedings, Manders has won three of the last four feature races at the Motorplex venue and would love to grab another one to reward the efforts of the Graham Jones Racing team.
Dan Golding kicked off the season strongly with two feature race wins and since then has recorded another six podium finishes, plus one more win as a car owner (with Daniel Harding behind the wheel – the only driver to have won a feature this season not in this weekend's field). He is fifth overall in the Championship standings and could well improve on that this Saturday night with a good run, so he will be another to watch.
Keenan Fleming and Tom Callaghan are the other two drivers to have won a feature this season, Fleming also with four other podium finishes and Callaghan with one. Fleming is fourth overall and can mathematically move up the standings, while Callaghan will also be hoping to finish his season with a strong run.
Despite not winning a feature race this season, Beau Doyle has been incredibly consistent this season and is currently sitting in third in the Track Championship standings. With one podium finish to his name this summer and never finishing outside the top ten at the Motorplex this season, he would love to continue that run and maybe even elevate his standings once more.
We welcome Rob Golding back to the ranks after a difficult season, this time aboard the Wayne Cover owned #9 if everything goes well at practice tonight, while we also have all the regulars in the field including Cory Smith, Ross Heywood (who is hoping to be ready to go after a big crash at the last meeting) and for the first time since a podium finish in mid-March, Nicholas Rowe, amongst many others.
With points still up for all the end of season club awards, including the prestigious Presidents Cup, every racer will be doing their absolute best to advance positions in every single race and this means the whole night will be edge of your seat racing!
See you this Saturday night at the Perth Motorplex for the final time in season 2021/22!
Release by DTN Media.
Pics Courtesy Peter Roebuck.
Official Nominations – 17
2 Ross Heywood
3 Nick Rowe
4 Kaiden Manders
7 Tom Payet
9 Rob Golding
18 Vaughan Manders
23 Glen Mears
26 Keenan Fleming
32 Stuart Yates
38 Travis White
50 Tom Callaghan
51 Beau Doyle
52 Lee Redmond
65 Russell Taylor
71 Dan Golding
76 Patrick Watson
89 Cory Smith