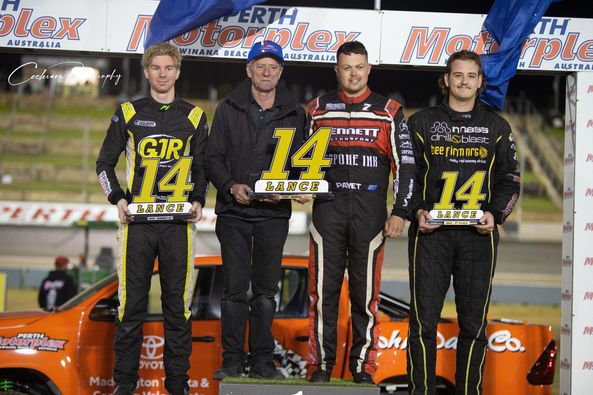 Last night at the Perth Motorplex was the annual Neville Lance Twin 14 Features event, and it was fierce rivals Kaiden Manders and Tom Payet who walked away with one feature win apiece!
In what would be a rough and tumble night for the Speedcar division, seventeen drivers would make the track for qualifying, with Daniel Golding fastest in qualifying group one and overall, while Vaughan Manders would be fastest in group two.
Golding would continue his strong form, winning the opening heat from Kaiden Manders and Travis White, but the second heat was where it all came undone.
Vaughan Manders, who was working hard to race to the front of the pack, went high in turn four and rolled heavily, ending his night with just three laps completed. He emerged shaken but unhurt and the race would resume, only to come under red lights once again a lap later after Stuart Yates got airborne down the back straight in a big way. Yates went with medical personnel for observation, with both Manders and Yates' nights over.
Tom Payet would claim the second heat from Lee Redmond and Matt Watkins and then with points from qualifying and heats tallied, and the ball draw of an eight invert, the first feature race grid was set!
Thirteen drivers would take the green in the first feature, with Beau Doyle off pole alongside Cory Smith.
Travis White, coming from position four hit the lead quickly while high points man Dan Golding, starting from eighth was amazing to move into second by the completion of the first lap.
After a yellow light stoppage with one lap complete for a spun Cory Smith, Golding would take his opportunity on the restart to take the lead on lap three, with Kaiden Manders following him through into second, White now in third.
Golding and Manders pulled away as the battle for third got interesting with White, Lee Redmond and Tom Payet fighting it out.
With ten complete Manders made a move and grabbed the lead through turns one and two, but Golding fought back and retook the lead that same lap.
The duo would then race side by side for the next couple of laps, Manders finally grabbing the lead with one to go by just 0.191 before it came undone, Golding spinning in turn two and making contact with the wall in the last lap to bring on the cautions and set up a green, white chequer finish.
Payet utilised the restart to his advantage to grab second but in the end Manders was too strong, defeating Payet and White.
The finishing order of feature race one would set the field for the second feature in honour of Neville Lance, and fittingly, fourteen cars would take the green.
A number of cars came together at the start, and through turn one cars moved to avoid a spinning Patrick Watson, with Matt Watkins touching him and other cars hitting, with Dan Golding and Corey Smtih both going upside down, while Rob Golding and Gary Mann also came to a stop.
Mann, Smith and Watson did not restart, but Dan Golding, despite going upside down, was given the nod to resume along with Watkins and Rob Golding, seeing eleven cars for the next attempt at a start.
Attempt two saw Manders lead Payet and Keenan Fleming, Payet pulling a slide job in turns three and four to lead the opening lap.
Payet and Manders went low, Fleming went high and made some ground in third, while behind them Redmond was holding off Alfonso Guadagnino and the rest of the field.
Back up front Manders retook the lead and with five complete had streaked away from Payet, who in turn was a quarter track ahead of third placed Fleming.
The yellows came on as Alfie spun in turn two with seven to go, and on the restart Payet would challenge Manders initially for the lead, but again Manders stole it back and set out on a mission, pulling away again as the laps wound down.
With four to go Redmond would slow and pull infield, then shortly after, Rob Golding would spin to bring on the yellows.
It would be a carbon copy restart initially with Payet challenging Manders, but Kaiden again able to get back in front. This time though, but Payet didn't let him get away and retook the lead on lap thirteen, the white flag flying.
The duo remained side by side through the remaining lap and through the final turn Payet was low and Manders was giving it everything on the highline to get back by Payet. In the end it would come down to the wire, the duo again side by side over the line, with Payet getting the nod by just 0.011 seconds.
Manders was officially second while Fleming would finish in third place, Dan Golding bounced back to finish fourth and Beau Doyle rounded out the top five.
It would be a fitting end to a night that honoured a WASDA legend, with two of WASDA's strongest young competitors in Kaiden Manders and Tom Payet claiming the feature wins.
Speedcars will return to the track in a fortnights time, but this time it will be at the Geraldton Speedway on the 19th of November for the Legends of WASDA event, doubling as the opening round of the Speedcar Country Series!
Release by DTN Media.
Pics Courtesy Richard Hathaway Photography and Cochrane Photography
Official Results
Qualifying One, 2 laps: 1. Daniel Golding 16.621, 2. Kaiden Manders 16.642, 3. Travis White 17.008, 4. Alfonso Guadagnino 17.160, 5. Patrick Watson 17.400, 6. Beau Doyle 17.476, 7. Lee Austen NTT, 8. Keenan Fleming NTT, 9. Joel Watson NTT.
Qualifying Two, 2 laps: 1. Vaughan Manders 16.692, 2. Tom Payet 16.724, 3. Lee Redmond 16.982, 4. Matt Watkins 17.196, 5. Cory Smith 17.417, 6. Stuart Yates 17.435, 7. Rob Golding 17.587, 8. Gary Mann 19.480.
Heat One, 8 laps: 1. Daniel Golding, 2. Kaiden Manders, 3. Travis White, 4. Beau Doyle, 5. Lee Austen, 6. Keenan Fleming, 7. Alfonso Guadagnino. DNF: Patrick Watson (2). DNS: Joel Watson. Total Time: 2.15.145. Winning Margin: 5.057. Fastest Lap: 16.327 Daniel Golding.
Heat Two, 8 laps: 1. Tom Payet, 2. Lee Redmond, 3. Matt Watkins, 4. Cory Smith. DNF: Rob Golding (7), Stuart Yates (4), Gary Mann (3), Vaughan Manders (3). Total Time: No Time. Winning Margin: 1.424. Fastest Lap: 16.687 Tom Payet.
Feature One, 14 laps: 1. Kaiden Manders, 2. Tom Payet, 3. Travis White, 4. Keenan Fleming, 5. Lee Redmond, 6. Alfonso Guadagnino, 7. Beau Doyle, 8. Cory Smith, 9. Lee Austen, 10. Gary Mann (14). DNF: Matt Watkins (13), Patrick Watson (13), Dan Golding (13). DNS: Rob Golding, Stuart Yates, Vaughan Manders, Joel Watson. Total Time: No Time. Winning Margin: 0.363. Fastest Lap: 16.160 Kaiden Manders.
Feature Two, 14 laps: 1. Tom Payet, 2. Kaiden Manders, 3. Keenan Fleming, 4. Daniel Golding, 5. Beau Doyle, 6. Alfonso Guadagnino, 7. Rob Golding (14). DNF: Travis White (11), Lee Redmond (10), Matt Watkins (6), Lee Austen (1), Corey Smith (0), Gary Mann (0), Patrick Watson (0). DNS: Stuart Yates, Vaughan Manders, Joel Watson. Total Time: No Time. Winning Margin: 0.011. Fastest Lap: 16.116 Kaiden Manders.