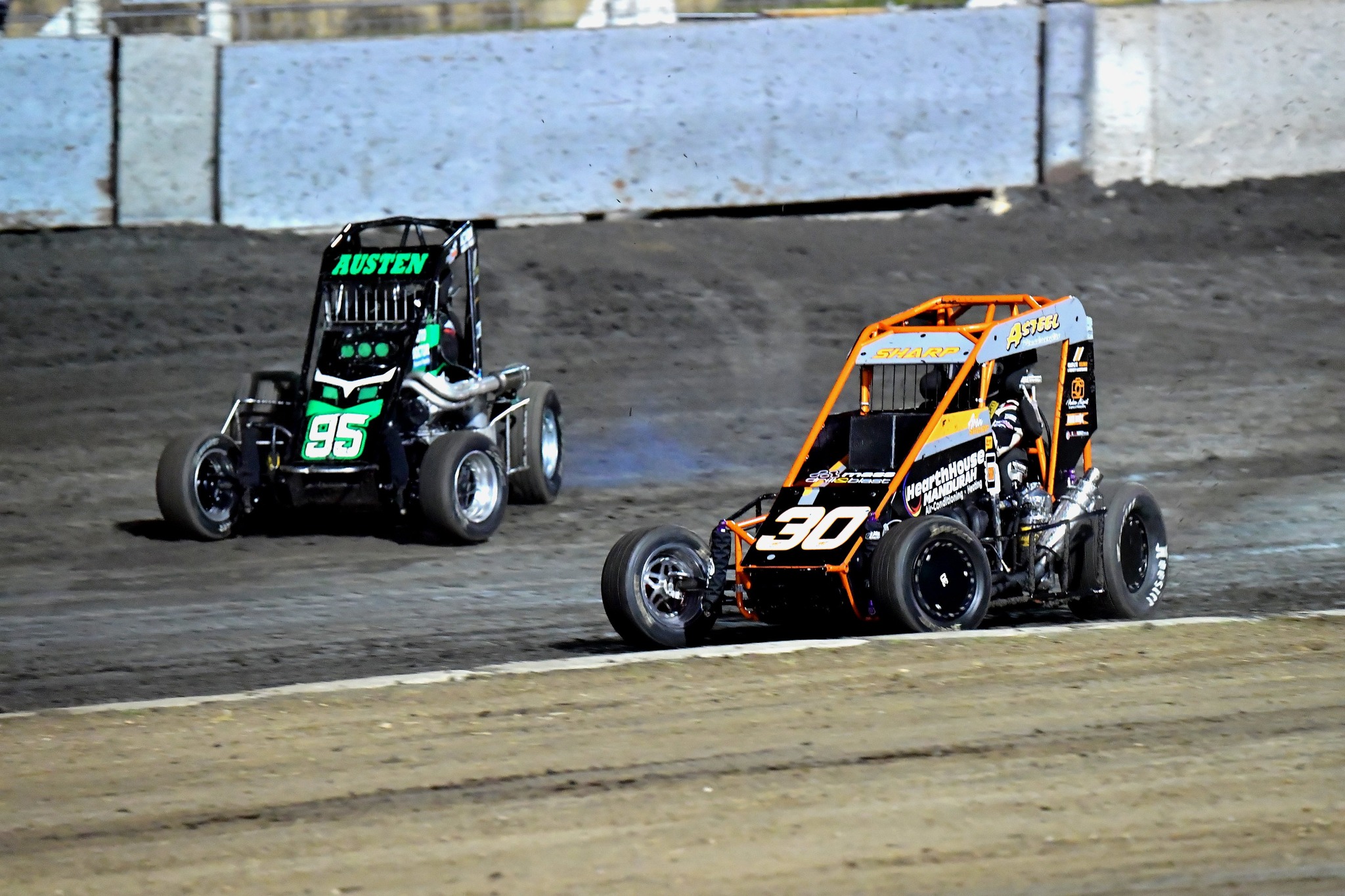 Season 2022/23 is shaping up to be another big one for Speedcars in Western Australia, and as has been a prominent theme in recent years, the rookie drivers continue to join the WASDA ranks!
At this stage there are no less than four official rookie drivers preparing themselves to strap into the seat at some stage this season, and who knows who else will step in throughout the season!
Aron Sharp (SHARP Motorsport) comes to Speedcars with a background in dirt karts, like many of our successful WASDA drivers have over the years. Aron runs an Outlaw Kart for Michelle Joyce, the wife of former Sidecar Champion Warren Joyce, and as a result will now begin his Speedcar career racing under the #30.
Driving a Spike Mopar combination, Sharp has had a couple of practice runs so far and looked solid, even nominating to make his racing debut next weekend at the Perth Motorplex. Unfortunately, last Wednesday while cutting practice laps at the Motorplex, the motor suffered some issues with the rod going out the block, and putting a dent in the team's seasons plans.
Fingers crossed they can rebuild quickly and will be back on track sooner rather than later!
Last season we saw third generation racer Patrick Watson join the ranks of the Speedcars like his father (former WA Champion Tom Watson Jnr) and grandfather (former Australian Champion Tom Watson Snr). This season we will see another Watson join the ranks, in Patrick's younger brother Joel!
Having already raced a season in the Formula 500 ranks (in a car prepared by fellow Speedcar racer Beau Rogers) with success, Joel is now ready to join Speedcars and being an ex-dirt kart champion, shouldn't take long to adjust! The team has been busily working to prepare the Spike Chevy #75 and are nominated to hit the track at the Motorplex opening show this coming weekend.
The final two rookies at this stage for the 2022/23 season are another set of brothers in the Margaret River domiciled Minchin boys Declan and Brodie.
Coming from a long time Speedway family, with Grandfather Lester Minchin racing in Super Mods, then father Russell also racing and heavily involved in Limited Sprintcars, the duo, who have raced in Junior Sedans and Sprintcars also, have now decided to join the Speedcar ranks.
The team have purchased the ex-Jacob Potts #81 outfit, which is now a completely new car, having been built by Chuck Redmond. The Spike Chevy #73 machine should hit the track later in the season with Declan behind the wheel, while Brodie is set to also run a limited number of shows.
Technically, Daniel Harding (Harding Racing) is also classified as a rookie in the 2022/23 season, having only competed in one show last season. Of course, it was a sensational debut for the former Solo, Formula 500, 360 Sprintcar and 410 Sprintcar, grabbing a clean sweep on the night, including the feature race and in the process becoming one of just two drivers to win feature races at the Perth Motorplex in five different divisions.
Since then he has headed up to Darwin to begin the 2022/23 season, where he raced with success, including another win.
At this stage it looks as if Harding will be in the Dan Golding owned machine on a more regular basis, with the aim to also head East and contest the Australian Speedcar Championship, along with his regular Sprintcar commitments here in the West, so it will be a huge season for Harding Racing.
The rookies are certainly going to be looking to make an impact quickly this season and we can't wait to see them on track, starting next Saturday for Powerpalooza!
Release by DTN Media.
Pics Courtesy Peter Roebuck Photography, Richard Hathaway Photography, Sharp Motorsport, Beau Rogers Motorsport and Minchin Motorsport.