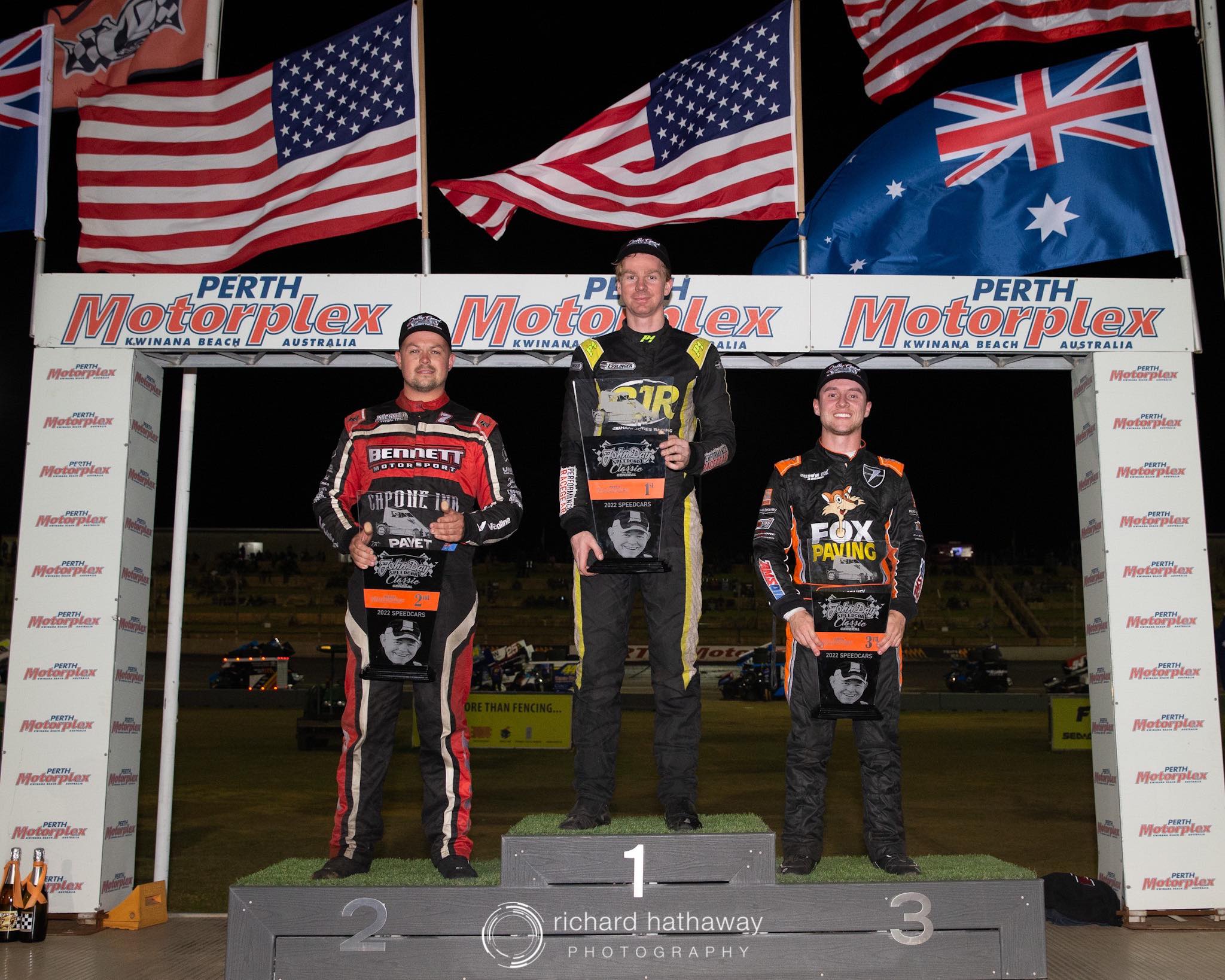 Kaiden Manders has last night claimed one of the biggest wins of his career as he claimed the sixth annual John Day Speedcar Classic at the Perth Motorplex and the $6000 winners cheque that goes with it!
Manders was strong all night, with a win and a second place in his heats, but a ninth place in qualifying saw him starting from position four in the thirty-lap feature behind the front row of Tom Payet and Daniel Harding, and alongside Logan Seavey.
Pole sitter Payet launched away at the initial start of the race, with Seavey moving into second before Daniel Harding raced back by him to retake the position, but it was all for naught as Gary Mann, Rob Golding and Joel Watson all came together in turn three to force a complete restart.
Watson was the only one unable to restart from the incident with a nerf bar up against his tyre, while Declan Minchin also went infield.
The race restarted and Payet led away, but only one lap was completed before the yellows came on again as Alfonso Guadagnino spun in turn one, with Patrick Watson deemed the cause and also sent rear for the restart.
Payet got away on the restart with American visitor Alex Bright moving into the second place ahead of Harding and Manders, but again just one more lap was complete when the yellows came on, this time for a spun Rob Golding.
At the next time of asking Payet was away quickly, Harding moving into second ahead of Bright, before yet again the yellows came on, this time for Patrick Watson spun in turn four.
After a shaky start, the race finally got some laps strung together from this point, with Bright this time taking advantage of the restart to retake second position.
The battle was now on for second with Bright leading Manders, Harding and Seavey in a tight pack, the top five exchanging places on a regular basis.
Bright momentarily took the lead but Payet got back by, as Harding continued his fight with Seavey setting the scene for what was looking to be an epic race before the yellows came on again with seven complete for Corey Smith who spun in turn four.
Harding grabbed third on the restart but Manders got right back by, with Harding not giving up and retaking the position.
Lap eleven saw Harding slow and then ultimately head infield, seeing Payet and Manders now by themselves fighting it out for the front position, while Bright and Seavey fought hard for third a distance behind them.
With twelve complete Manders and Payet were side by side, Manders finally grabbing the lead on lap thirteen, but it didn't matter as Smith spun once again, this time in turn one. As the yellows came on for him, Alfie Guadagnino went high in turn three, hit the wall and rolled, seeing the red lights on for the first and only time for the night for Speedcars.
With the last lap not complete, Payet was back in front and led away Manders and Bright on the restart, Manders again going low through turn four to momentarily take the lead before Payet slid back by. Manders again went by in turns one and two and this time it stuck, Manders officially leading lap fourteen.
From here, the field then began to spread out, with Manders slowly moving into lapped traffic on the twentieth lap.
Both Manders and Payet had moments with traffic, but were able to survive, Manders ultimately going on to claim the win by nearly three seconds from Payet.
All eyes however, were also on the battle for third, with Bright holding off Seavey right until the last moment when Seavey used the outside line to perfection, sneaking around Bright to take third by just 0.102 seconds at the line.
It was a great night of racing, and what a great way it was to honour 'The General'!
The next show for the Speedcars will be the Country Series, kicking off at Moora Speedway next weekend, Saturday the 10th of December!
A big thankyou to all the sponsors who made the John Day Classic possible: Air Control Transport and Refrigeration, Bennett Motorsport, Graham Jones Racing, Great Southern Fuel Supplies, GT Brake and Clutch Busselton and Lance Auto Electrics, plus the Perth Motorplex, Speedcars Australia, Speedway Australia and the Day Family (John Day Racing).
Release by DTN Media.
Pics Courtesy Richard Hathaway Photography, Flash Fotos & Graphix and Peter Roebuck.
Contingency Awards
RPM Race Products Pole Position – Tom Payet
Thermal Dynamics Engine Heaters Lucky 7 – Beau Doyle
Dirt Track Nutters Hard Charger – Aron Sharp
EightyOne Racewear 1st Division 2 Driver – Matt Watkins
Asteel Powdercoaters QuickTime – 16.234 Logan Seavey
Oval Track Diecast and Racing Collectables Best Presented Car – Glen Mears
ADD LIFE Renovations Highest Division 2 Qualifier – Travis Armstrong
Saunders Traffic and Supervisor Services Heat Race Winners – Tom Payet (2), Kaiden Manders and Daniel Harding
Official Results
Qualifying, 2 laps: 1. Logan Seavey 16.234, 2. Daniel Harding 16.269, 3. Tom Payet 16.270, 4. Lee Redmond 16.659, 5. Daniel Golding 16.718, 6. Alex Bright 16.749, 7. Keenan Fleming 16.928, 8. Vaughan Manders 16.932, 9. Kaiden Manders 16.961, 10. Matt Watkins 16.968, 11. Travis Armstrong 17.038, 12. Rob Golding 17.059, 13. Alfonso Guadagnino 17.126, 14. Cory Smith 17.238, 15. Beau Doyle 17.566, 16. Glen Mears 17.971, 17. Gary Mann 18.121, 18. Patrick Watson 18.192, 19. Joel Watson 18.517, 20. Declan Minchin 19.863, 21. Aron Sharp 21.814, 22. Lee Austen 25.057.
Heat One, 8 laps: 1. Tom Payet, 2. Kaiden Manders, 3. Logan Seavey, 4. Daniel Golding, 5. Travis Armstrong, 6. Glen Mears, 7. Rob Golding, 8. Patrick Watson, 9. Cory Smith, 10. Declan Minchin. DNS: Keenan Fleming. Total Time: 2.16.957. Winning Margin: 1.284. Fastest Lap: 16.880 Tom Payet.
Heat Two, 8 laps: 1. Daniel Harding, 2. Alex Bright, 3. Matt Watkins, 4. Beau Doyle, 5. Vaughan Manders, 6. Alfonso Guadagnino, 7. Gary Mann, 8. Joel Watson, 9. Aron Sharp (7). DNF: Lee Austen (6). DNS: Lee Redmond. Total Time: 2.19.757. Winning Margin: 2.065. Fastest Lap: 17.242 Daniel Harding.
Heat Three, 8 laps: 1. Tom Payet, 2. Daniel Harding, 3. Alex Bright, 4. Lee Austen, 5. Travis Armstrong, 6. Glen Mears, 7. Beau Doyle, 8. Matt Watkins, 9. Aaron Sharp. DNF: Rob Golding (7). DNS: Keenan Fleming. Total Time: 2.17.387. Winning Margin: 5.256. Fastest Lap: 16.689 Tom Payet.
Heat Four, 8 laps: 1. Kaiden Manders, 2. Daniel Golding, 3. Logan Seavey, 4. Patrick Watson, 5. Vaughan Manders, 6. Alfonso Guadagnino, 7. Cory Smith, 8. Declan Minchin, 9. Gary Mann, 10. Joel Watson. DNS: Lee Redmond. Total Time: 2.18.865. Winning Margin: 2.560. Fastest Lap: 17.054 Kaiden Manders.
Feature, 30 laps: 1. Kaiden Manders, 2. Tom Payet, 3. Logan Seavey, 4. Alex Bright, 5. Daniel Golding, 6. Matt Watkins (29), 7. Beau Doyle (29), 8. Glen Mears (29), 9. Vaughan Manders (29), 10. Aaron Sharp (29), 11. Gary Mann (28). DNF: Lee Austen (25), Alfonso Guadagnino (12), Daniel Harding (11), Travis Armstrong (7), Declan Minchin (0), Joel Watson (0). DQ: Corey Smith, Patrick Watson, Rob Golding. DNS: Keenan Fleming, Lee Redmond. Total Time: No Time. Winning Margin: 2.966. Fastest Lap: 17.202 Kaiden Manders.