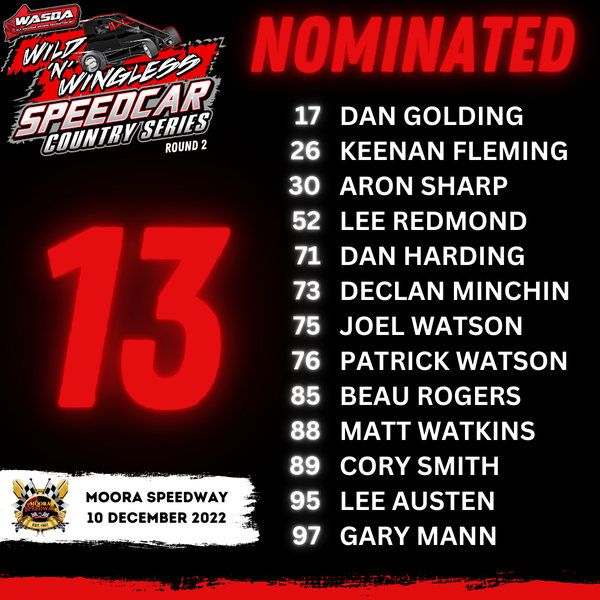 Just one week after the huge John Day Speedcar Classic, WASDA will back it up again this weekend, with the opening round of the County Series being held at the Moora Speedway.
With the original opening round of the Country Series at Geraldton previously cancelled, the Speedcars will instead relish the tight confines of the Moora track this Saturday night and with a thirteen-car field nominated, it should be a great show.
There is an exciting list of competitors who have thrown their hats in the ring, with a good mix of series regulars and rookie racers in the field ready to make a name for themselves.
Daniel Golding has been a standout over the last couple of years, grabbing his maiden feature race win and then backing it up with another and plenty of other podium finishes. A solid fifth place last weekend means he is certainly going to be one to contend with.
Last time we visited Moora, Keenan Fleming was the man to beat, going through undefeated. Although he has had a bit of a rough run since then, including motor issues last weekend, he should be right back on the pace tonight.
Others to have misfortunes at the last show include Daniel Harding, Lee Redmond and Lee Austen, all of whom were demonstrating impressive speed and skill at different times throughout the event and will tonight be out for a measure of revenge.
Declan Minchin and Aron Sharp made their Speedcar racing debuts last weekend, with Minchin doing well throughout the night but recording an unfortunate DNF in the main event, while Sharp put in a solid performance to start nineteenth and finish tenth in his first ever feature race. Although they will continue to start from the rear of the field this weekend along with fellow rookie Joel Watson, the experience they will gain will be immeasurable, and you never know, they could be right there at the end!
Add in a whole host of other names including Gary Mann this season piloting a new chassis, Patrick Watson who is stepping up his game after a solid debut last year, Matt Watkins who was the first division two driver home last weekend, Cory Smith who is hoping to bounce back after a tough night at the Classic and Beau Rogers who returns to the track after missing a couple of shows recently, and we have all we need for a huge show!
Sit back, relax and enjoy the action at Moora Speedway this Saturday night!
The 2022/23 WASDA Country Series, proudly presented by GT Brake and Clutch Busselton, Bennett Motorsport, RPM Race Products, Dirt Track Nutters, Asteel Powdercoaters, Coverall Sheetmetal and Thermal Dynamics Engine Heaters.
Release by DTN Media.
Pics Courtesy JSP/DTN Media.
Official Nominations – 13
17 Dan Golding
26 Keenan Fleming
30 Aron Sharp
52 Lee Redmond
71 Dan Harding
73 Declan Minchin
75 Joel Watson
76 Pat Watson
85 Beau Rogers
88 Matt Watkins
89 Cory Smith
95 Lee Austen
97 Gary Mann