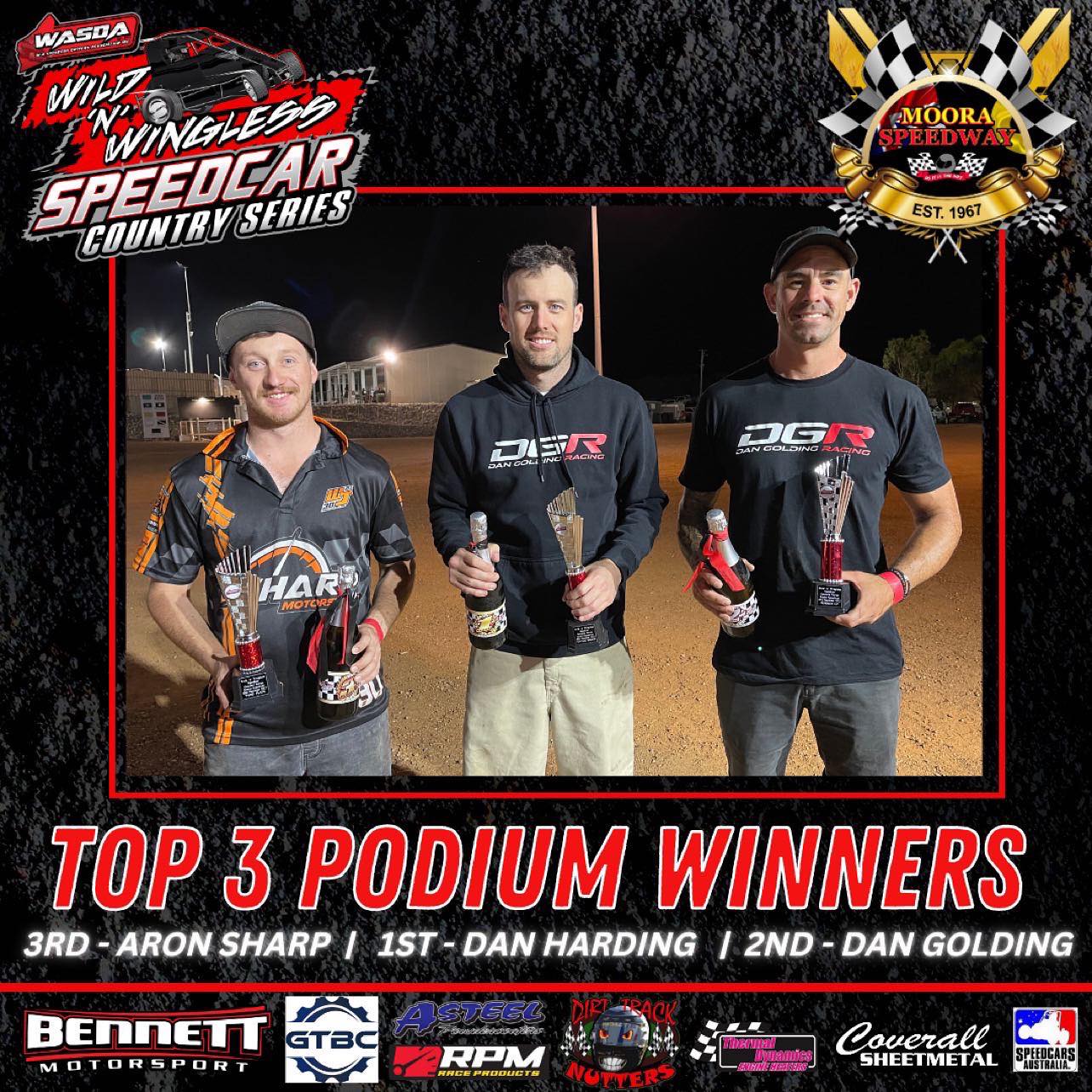 Harding Survives Tough Night in Moora!
It was a tough night for the wild and wingless Speedcars last night at Moora Speedway but it was Daniel Harding who was able to outlast the rest of the pack as he claimed his first win in WA for the 2022/23 season.
Only nine of the original thirteen nominated racers would actually make the track after a variety of issues hit a number of the competitors, while Keenan Fleming was out for the night after engine starts with mechanical gremlins again rearing their ugly head and putting paid to his chances of another clean sweep at the Moora venue.
Beau Rogers would suffer piston damage after the first heat (which was won by Daniel Golding) while Matt Watkins was also out after just one heat.
The second heat (won by Daniel Harding) would see a reduction in laps to give drivers the chance to make it through to the feature event, but Lee Austen and Gary Mann would also suffer issues, seeing just four cars lining up for the feature race event.
Dropped to ten laps, the feature event would see the Dan Golding Racing team cars of Harding and Golding on the front row, while the second row would see rookies Aaron Sharp and Declan Minchin.
Golding and Harding hit the line together as the race went green, with Harding just able to use his right rear wheel to touch the left front of Golding as they went through turn one, keeping him in front.
Sharp was also able to get in front of Minchin at the start and from here the field began to spread out.
With six complete the yellow lights came on as Declan Minchin spun in turn one.
Try as they might, there was no change on the restart, but the field did remain close, Harding ultimately going on to record the win from Golding and Sharp while Minchin didn't finish after spinning in turn three as the rest of the field took the chequered flag.
A huge thankyou to the Moora crew for being so patient throughout the night and giving WASDA a chance to compete at their great venue. We hope to be back real soon and put on an even better show!
The next event for Speedcars will be Boxing Night at the Perth Motorplex for the first round of the Esslinger Engineering Triple Crown Series!
Release by DTN Media.
Pics Courtesy Mel Fleming/WASDA Media.
Official Results
Heat One, 8 laps: 1. Daniel Golding, 2. Daniel Harding, 3. Matt Watkins, 4. Gary Mann, 5. Aron Sharp, 6. Declan Minchin. DNF: Lee Austen (5), Beau Rogers (1). DNS: 26 Keenan Fleming. Total Time: No Time. Winning Margin: 0.862. Fastest Lap: 16.215 Daniel Harding.
Heat Two, 6 laps: 1. Daniel Harding, 2. Daniel Golding, 3. Aaron Sharp, 4. Gary Mann. DNS: Keenan Fleming, Declan Minchin, Beau Rogers, Matt Watkins, Lee Austen. Total Time: 1.41.107. Winning Margin: 0.713. Fastest Lap: 16.416 Daniel Golding.
Feature, 10 laps: 1. Daniel Harding, 2. Daniel Golding, 3. Aaron Sharp, 4. Declan Minchin. DNS: Keenan Fleming, Beau Rogers, Matt Watkins, Lee Austen, Gary Mann. Total Time: No Time. Winning Margin: 1.747. Fastest Lap: 15.945 Daniel Harding.