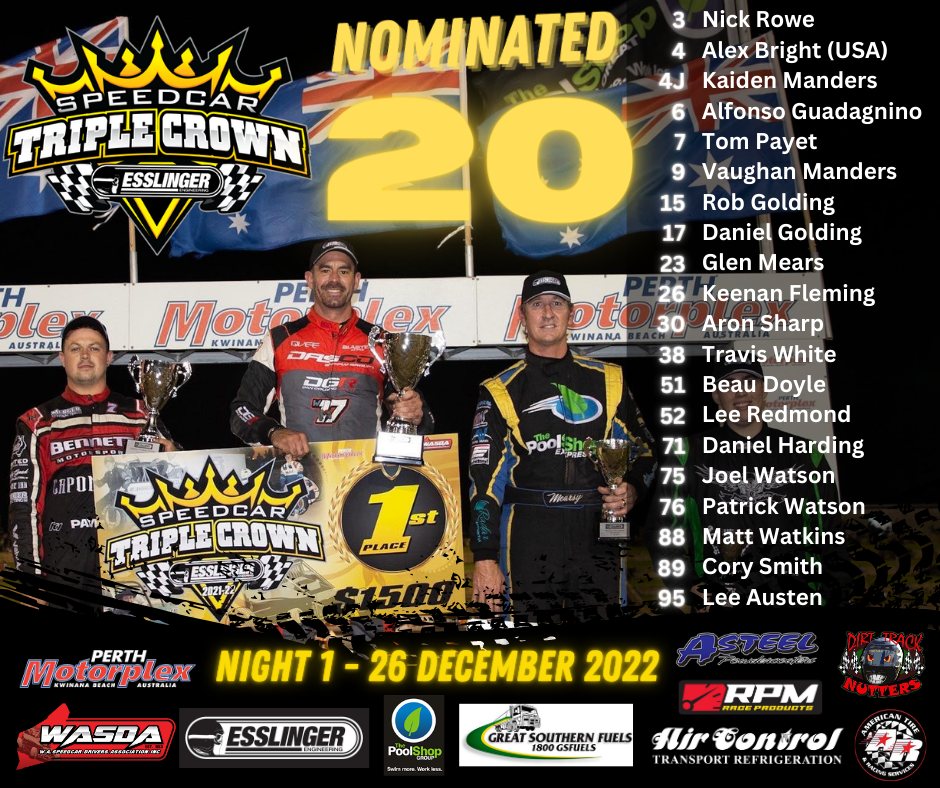 After a heap of build up… and a bit of distraction around the festivities this time of year… the focus has reset and it is nearly time for the Esslinger Engineering Triple Crown to get underway!
The opening round, to be held on Boxing Day at the Perth Motorplex and proudly presented by our good friends Courtney and the team at The Pool Shop Group, has attracted a solid twenty car field, with any number of drivers capable of taking the win.
Heading the nominations would be last year's winner Dan Golding, who recorded two second place finishes and a sixth place on route to clinching the overall series win by just four points over Tom Payet, who himself recorded two round wins but a DNF in the second round proved costly.
Both drivers have nominated for the first round of this year's series and have their own goals in mind: Golding desperate to go back-to-back while Payet is looking for revenge and to claim the $1500 series winner's cheque all for himself.
Third place overall last year was Glen Mears, his consistency punctuated by a solid third place finish in the opening round to have him just four points behind Payet in the overall standings and despite running a limited schedule this season, he will be hungry to continue that success.
Looking further down the list, we can see that the entire top six from last year's series have nominated for Monday night's show, including Keenan Fleming, Beau Doyle and Alfonso Guadagnino, while Cory Smith is the only other top ten finisher from last year's series to also throw his hat in the ring. All four drivers have had varying amounts of success this season, so will be hoping that they can now throw together three consistent rounds to be in the running for the overall prize money, and to also claim some solid results and payouts on the way.
There are a number of big names missing from the aforementioned list that are in this weekend's field, including Kaiden Manders, Dan Harding, Lee Redmond and American superstar Alex Bright.
Manders was forced to miss the third round of last year's series, and it cost him dearly, finishing twelfth overall after recording a solid win in the second show. He is back and looking for vengeance this time around and comes into the show in great form having claimed three of the four feature races that have been held at the Motorplex this season.
Redmond had a rough second round last season that saw him finish eleventh overall, and after missing the recent show at Moora with engine issues, he is ready to bounce back to make up for the disappointment that followed through from the John Day Classic event.
Dan Harding meanwhile at the other end of the scale is fresh off a big win in Moora a couple of weeks ago and with confidence playing such a key role in Speedway racing, plus the fact that he is getting plenty of laps under his belt this season racing in two divisions, is once again a serious threat.
Pennsylvania's Alex Bright, who is again racing for the Graham Jones Racing team, missed racing here in the last few years due to Covid restrictions, but he is now back and after being pipped at the post and finishing fourth in his last show here, he too will be keen to make amends and show the locals who the boss is!
Nicholas Rowe is always fast, and the car is much the same, being driven at the last show by rookie Travis Armstrong who impressed many, so with Rowe back behind the wheel, we could see a surprise upset, while Vaughan Manders is also back behind the wheel of the Wayne Cover owned #9 machine and would also love to upset the apple cart with a solid result.
Other names including Rob Golding, Lee Austen and Matt Watkins will be hoping for a reversal of fortunes after a difficult few weeks, and then by adding in the always super-fast and returning Travis White (fresh off being a team owner for American Logan Seavey!), rookie Aron Sharp who grabbed a podium finish at the Moora Country Series show and the Watson boys Patrick and Joel who are looking for a change in fortune and we have a massive show for the opening show!
Make sure you don't miss a minute!
The 2022/23 Esslinger Engineering Triple Crown is proudly presented by Esslinger Engineering, The Pool Shop Group, Great Southern Fuel Supplies, Air Control Transport Refrigeration, Dirt Track Nutters, American Racer Tires, RPM Race Products and Asteel Powdercoaters.
Release by DTN Media.
Pics Courtesy Peter Roebuck.
Official Nominations – 20
3 Nicholas Rowe
USA4 Alex Bright
4 Kaiden Manders
6 Alfonso Guadagnino
7 Tom Payet
9 Vaughan Manders
15 Rob Golding
17 Daniel Golding
23 Glen Mears
26 Keenan Fleming
30 Aron Sharp
38 Travis White
51 Beau Doyle
52 Lee Redmond
71 Daniel Harding
75 Joel Watson
76 Patrick Watson
88 Matt Watkins
89 Cory Smith
95 Lee Austen