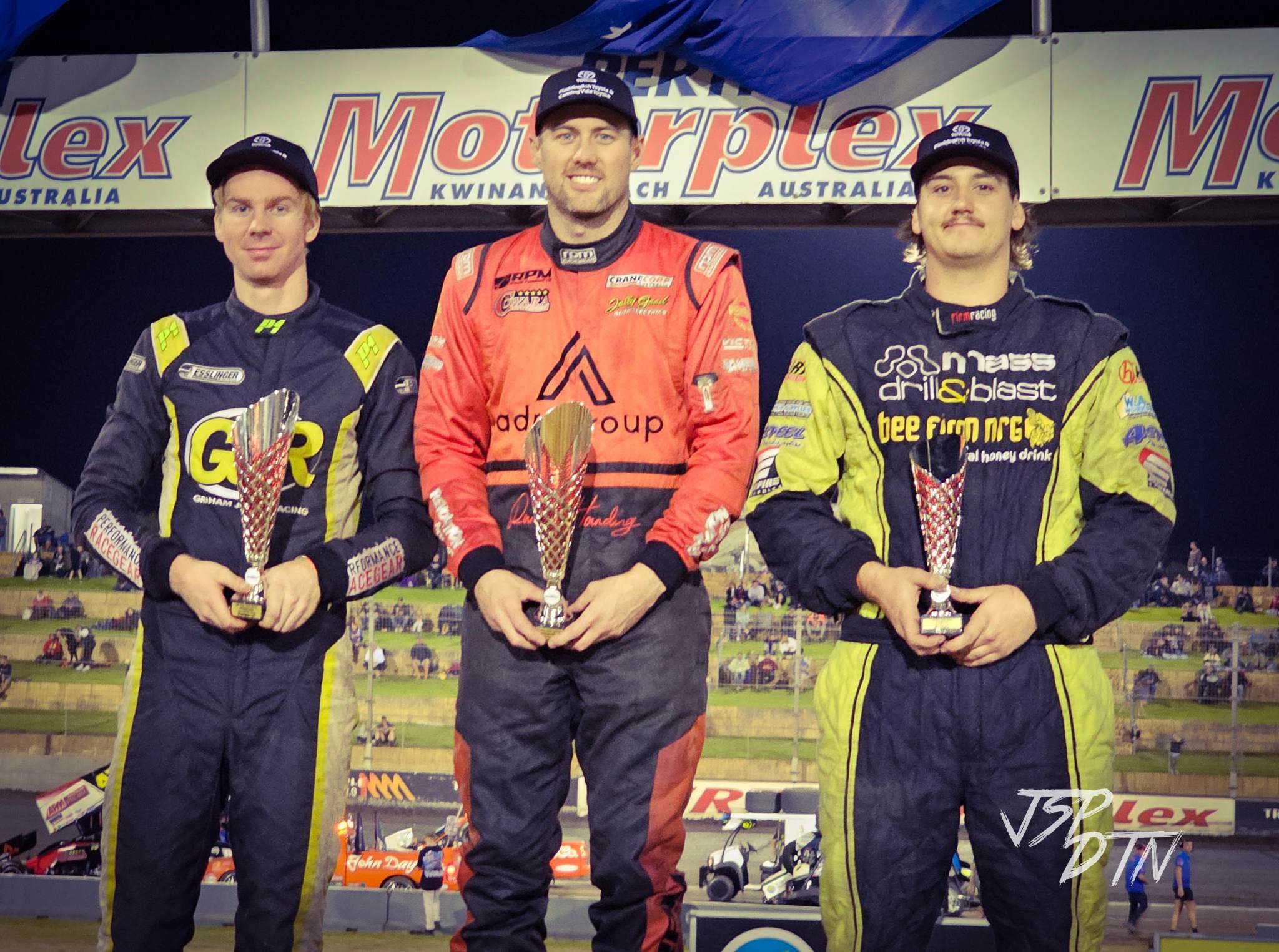 For the second time this season Daniel Harding has tonight shown the Speedcar division that he means business, racing away to claim a second feature race win for the season at the Perth Motorplex.
Harding would start on the front row alongside teammate Daniel Golding, the duo enjoying a good night, and as the feature went green it would be Golding into the immediate lead.
Despite that, the Pool Shop Group Perth Motorplex Track Champion elect Kaiden Manders would quickly make his presence felt from the second row, almost coming from nowhere to join the battle at the front, the trio of Manders, Golding and Harding going three wide across the line to complete lap one.
The three continued to battle hard, Manders getting the nose in front on lap two, then Golding into second ahead of Harding.
A lap later Harding got back by Golding for second as Rob Golding, who was able to start the feature after earlier rolling over in a heat race, headed infield.
Up front Manders and Harding pulled away from Golding, who was now running a lonely race in third, Keenan Fleming well behind him in fourth and Beau Doyle further back in fifth.
Lap ten saw the lead duo in the first of the lapped traffic with Harding closing the gap on Manders to within 0.2 of a second.
Over the next few laps, the duo played a bit of cat and mouse, Harding closing the gap only for Manders to extend it out again.
As third placed Golding found his way into traffic, Fleming also closed the gap on him and on lap fifteen he was 0.017 seconds behind Golding, then a lap later he had the position.
With three to go Harding threw his car under Manders in turn two but the move didn't come off, just 0.2 seconds between them again with two laps to go.
Harding then dove underneath in turn two once again and just grabbed the lead by 0.152 with one lap remaining, while on the final lap Harding was able to race away and grab the win ahead of Manders and Fleming.
With the nights results tallied it would be Manders who recorded a huge 247 point win in the Pool Shop Group Speedcar Track Championship, his six feature race wins enough to defeat Beau Doyle and Daniel Golding in the overall standings.
A huge thankyou to all those who played a part in the 2022/23 season and stay tuned for a complete wrap up before we do it all again in season 2023/24!
Release by DTN Media.
Pics Courtesy JSP/DTN Media.
Official Results
Heat One, 8 laps: 1. Patrick Watson, 2. Kaiden Manders, 3. Daniel Harding, 4. Daniel Golding, 5. Rob Golding, 6. Keenan Fleming, 7. Beau Doyle, 8. Cory Smith, 9. Aron Sharp, 10. Joel Watson. DNF: Vaughan Manders (7), Declan Minchin (2). Total Time: No Time. Winning Margin: 0.335. Fastest Lap: 16.777 Daniel Harding.
Heat Two, 8 laps: 1. Daniel Golding, 2. Daniel Harding, 3. Kaiden Manders, 4. Beau Doyle, 5. Aron Sharp, 6. Keenan Fleming, 7. Patrick Watson, 8. Cory Smith, 9. Joel Watson. DNF: Rob Golding (0). DNS: Vaughan Manders, Declan Minchin. Total Time: 2.18.417. Winning Margin: 0.293. Fastest Lap: 16.793 Kaiden Manders.
Feature, 20 laps: 1. Daniel Harding, 2. Kaiden Manders, 2. Keenan Fleming, 4. Daniel Golding, 5. Beau Doyle (19), 6. Cory Smith (19), 7. Patrick Watson (19), 8. Aron Sharp (19), 9. Joel Watson (19). DNF: Rob Golding (4). DNS: Vaughan Manders, Declan Minchin. Total Time: 5.31.483. Winning Margin: 0.907. Fastest Lap: 16.184 Daniel Harding.