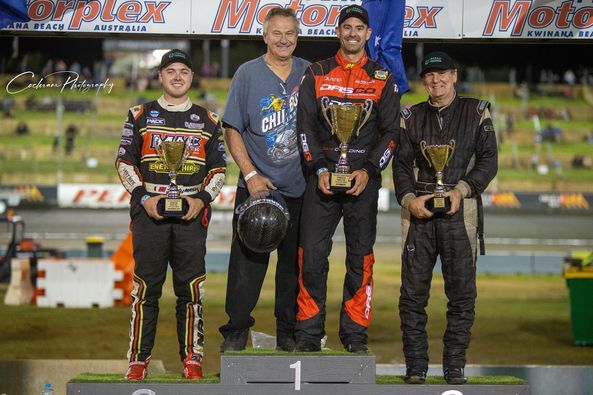 Tonight at the Perth Motorplex Dan Golding outclassed the rest of the field to claim his second Perth Motorplex feature race win, and third feature win ever in a Speedcar, crossing the line first in the annual Gold Cup event.
Golding qualified from position one in the twenty lap feature after recording two second place finishes in the two heat races while Vaughan Manders would join him on the front row courtesy of a heat win and a sixth.
Joel Watson (a third and a fifth) and Beau Doyle (a heat win and a ninth) would start on the second row together.
As the race went green it would be Dan Golding into the lead with Vaughan Manders using the high line to drive right around him coming out of two.
Golding fought back but Manders held strong and led the first lap, with Golding and Doyle chasing hard while behind them was plenty of battles throughout the field.
Rookie Cody Nash, who started from position five after racing through from the rear in his heats, moved into third shortly after, while behind them Kaiden Manders, who started near the back of the pack after a DNF in his opening heat, was quickly into fourth and with six complete was beginning to pressure Nash.
Back up front, Kaiden's father Vaughan was also coming under pressure, with Harding catching and then passing him to lead lap seven.
Vaughan would then come under pressure from Cody Nash, Nash passing him for second just as Kaiden Manders began to slow, the yellows coming on with eight laps complete.
Under yellows Patrick Watson would also retire infield.
The race resumed and Vaughan piled the pressure on Nash, but Nash raced away and almost stole the lead from Golding through turn four as Golding hit a bump that unsettled the car.
Golding was able to recover, with Vaughan's Speedcar experience also giving him enough to get back by Nash for second with eleven laps complete.
The top three pulled away from the rest of the field as Doyle was engaged in a great battle with Joel Watson for fourth, Keenan Fleming loitering just behind as he too looked for a way through.
With four to go Watson made his way past Doyle for fourth, while up front Nash had again closed the gap on Manders and was looking for a way through, before the yellows came on for Rob Golding who spun in turn four, with Keenan Fleming also involved and heading infield.
Again, the top three pulled away but this time they were in very close quarters, Nash going high to sweep past Manders and then look for a way behind Golding, sitting right on his tail tank with one lap to go.
Despite his best efforts though, including a last turn lunge, Golding did enough to hang on, Nash, in his debut Speedcar meeting, coming home in second place while Vaughan Manders was third.
There is now just one Speedcar event left for the season, as we return to the Perth Motorplex on the 22nd of April for the Grand Finale!
Release by DTN Media.
Pics Courtesy Cochrane Photography.
Contingency Awards
DTN Hard Charger – Declan Minchin
ASteel Fast Time – 16.576 Vaughan Manders
Coverall Sheet Metal 1st Division Two Driver – Cody Nash
Coverall Sheet Metal 2nd Division Two Driver – Joel Watson
Official Results
Heat One, 8 laps: 1. Beau Doyle, 2. Daniel Golding, 3. Rob Golding, 4. Cody Nash, 5. Joel Watson, 6. Vaughan Manders, 7. Aron Sharp, 8. Cory Smith, 9. Declan Minchin. DNF: Keenan Fleming (7), Kaiden Manders (5). DNS: Patrick Watson. Total Time: 2.18.214. Winning Margin: 0.716. Fastest Lap: 16.742 Cody Nash.
Heat Two, 8 laps: 1. Vaughan Manders, 2. Daniel Golding, 3. Joel Watson, 4. Cory Smith, 5. Kaiden Manders, 6. Declan Minchin, 7. Keenan Fleming, 8. Cody Nash, 9. Beau Doyle, 10. Aron Sharp, 11. Rob Golding, 12. Patrick Watson. Total Time: 2.16.334. Winning Margin: 1.624. Fastest Lap: 16.898 Vaughan Manders.
Feature, 20 laps: 1. Daniel Golding, 2. Cody Nash, 3. Vaughan Manders, 4. Joel Watson, 5. Declan Minchin, 6. Beau Doyle, 7. Cory Smith, 8. Rob Golding. DNF: Aron Sharp (17), Keenan Fleming (17), Patrick Watson (
, Kaiden Manders (7). Total Time: No Time. Winning Margin: 0.327. Fastest Lap: 16.576 Vaughan Manders.