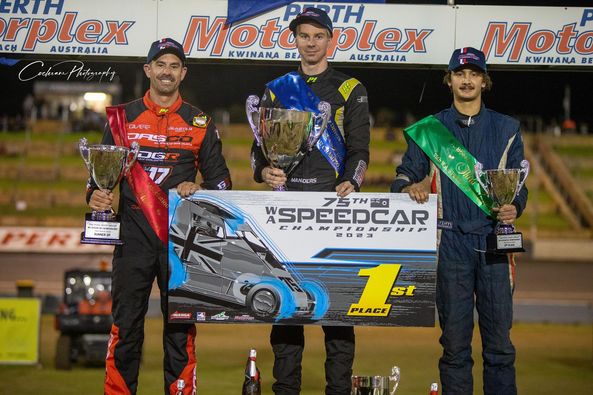 Kaiden Manders has tonight raced his way to victory at the Perth Motorplex for the sixth time this season, this time claiming his third WA Speedcar Championship in what was the 75th running of the event!
Fourteen Speedcars would start the night, but the numbers would quickly drop as in the opening stages of the first heat race Tom Payet rode over the back of Cory Smith, both rolling heavily through turn one and ending their nights prematurely.
Last start winner Daniel Harding would go on to win that heat race and then the second to set up a pole position start in the twenty five lap feature alongside heat three winner Kaiden Manders.
Nick Rowe, the current WA#3, would come from position three alongside Daniel Harding while Beau Doyle, who was scheduled to start from position five was also an unfortunate withdrawal before the race began, leaving us with eleven starters.
Kaiden Manders led into the opening turns from Harding as the race went green, but the reds came on quickly as Vaughan Manders spun in turn two and tipped over, landing back on his wheels.
Vaughan was able to restart, and this time as we got back under green flag conditions Manders and Harding were side by side across the line, Harding just getting the advantage through turns one and two.
Manders persisted low, but Harding remained high and led the first lap by 0.043 seconds.
Dan Golding at this point was third while Patrick Watson raced his way into fourth with two laps complete ahead of Nick Rowe, while Rowe fought back and reclaimed fourth with three complete.
Joel Watson would become the first retiree of the race, but back on track Manders had moved into the lead and with six complete had begun to pull away from Harding, while Dan Golding was now running a lonely race in third.
Patrick Watson meanwhile was able to get back by Rowe for fourth but again Rowe fought back and with eight complete, was back in fourth.
The lead duo began to encounter lapped traffic on the tenth circulation, both running the highline as they made their way past the first few lapped cars.
All of a sudden the Harding machine slowed and pulled straight to the infield with a terrible lean to the left hand side, Harding's race now over with twelve complete.
Four laps later Nick Rowe would also slow and head infield, seeing Kaiden Manders now leading Daniel Golding and Patrick Watson.
With twenty laps complete Manders had lapped fifth place and was right behind his father, fourth placed Vaughan, with third placed Watson a quarter of a lap ahead while second placed Golding was over six seconds behind him.
The final few laps would wind down, with Manders going on to record a convincing win in record time, knocking off nearly six seconds off the old mark set in December 2021.
Daniel Golding was next best, some seven seconds behind him while Patrick Watson was the last car on the lead lap and would round out the podium, his first ever top three finish in a feature event.
Vaughan Manders, Rob Golding, Declan Minchin, Aron Sharp and Stuart Yates would round out the eight finishers.
The next meeting is a fortnight away (April 1st), so this will give drivers a little bit of time off to ensure their cars are in tip top shape as the run to the end of the season gets closer. The April 1 meeting at the Motorplex will also be the annual Gold Cup show, so it is sure to be a big one!
Contingency Awards
RPM Pole Award – Daniel Harding
Asteel 1st Division 2 Driver – Patrick Watson
Asteel Quicktime – Kaiden Manders 15.891
Release by DTN Media.
Pics Courtesy Cochrane Photography.
Official Results
Heat One, 8 laps: 1. Daniel Harding, 2. Kaiden Manders 3. Nick Rowe, 4. Dan Golding, 5. Vaughan Manders, 6. Aron Sharp, 7. Declan Minchin, 8. Stuart Yates. DNF: Cory Smith (1), Tom Payet (1). Total Time: No Time. Winning Margin: 1.536. Fastest Lap: 16.258 Kaiden Manders.
Heat Two, 8 laps: 1. Daniel Harding, 2. Beau Doyle, 3. Patrick Watson, 4. Rob Golding, 5. Declan Minchin, 6. Joel Watson. DNS: Tom Payet, Cory Smith. Total Time: 2.13.477. Winning Margin: 2.046. Fastest Lap: 16.165 Daniel Harding.
Heat Three, 8 laps: 1. Kaiden Manders. 2. Daniel Golding, 3. Nick Rowe, 4. Vaughan Manders, 5. Beau Doyle, 6. Patrick Watson, 7. Aron Sharp, 8. Rob Golding, 9. Joel Watson, 10. Stuart Yates. Total Time: 2.09.986. Winning Margin: 1.797. Fastest Lap: 16.091 Kaiden Manders.
Feature, 25 laps: 1. Kaiden Manders, 2. Daniel Golding, 3. Patrick Watson, 4. Vaughan Manders (24), 5. Rob Golding (24), 6. Declan Minchin (24), 7. Aron Sharp (23), 8. Stuart Yates (23). DNF: Nicholas Rowe (16), Daniel Harding (12), Joel Watson (2). DNS: Tom Payet, Beau Doyle, Cory Smith. Total Time: 6.46.339 RECORD. Winning Margin: 7.026. Fastest Lap: 15.891 Kaiden Manders.