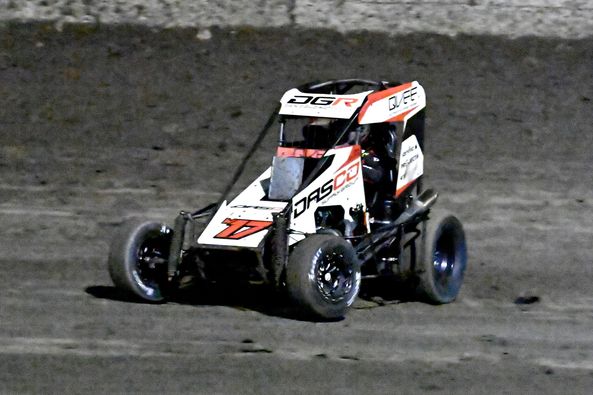 This weekend at the Perth Motorplex will see The Pool Shop Group Speedcars contesting the WA Speedcar Title for the 75th time, and with a solid field nominated and the results of recent weeks taken into account, it is sure to be a cracker!
Kaiden Manders comes into the show as the defending champion, but mechanical woes sidelined him last weekend, leaving the team with plenty of work to do to get themselves back into Title contention. If Manders is able to claim the win it will be his third WA Title victory and will also see him extend his lead in the Pool Shop Group Perth Motorplex Track Championship.
Tom Payet also comes in as a two time champion, but in a reversal of fortunes to Manders, he is fresh off a podium finish at the last show. Although he wasn't able to catch the winner of the feature race, Payet was strong throughout the night and qualified off pole position so will be looking for more of the same this weekend.
Daniel Harding is the man who outclassed them all at the last show, doing the double Sprintcar/Speedcar feature win and showing them all that he will be a serious contender this weekend. If Harding is successful it would be his first WA Speedcar Championship win and it is a trophy that he would dearly love to add to his cabinet.
Team mate Dan Golding also had a strong run, coming home third in the last show to make it three podium finishes so far this season. He too has looked strong in every race and with a little bit of luck going his way, could well walk away with a shiny new trophy!
Also keen to etch their names into the history books is a number of drivers who have previously podiumed in the WA Title event but never broken through for the win. Keenan Fleming (two second places), Nicholas Rowe (third in last year's Title), Beau Doyle (third in 2019/20 behind Payet and Fleming) and Vaughan Manders (third in the race just over ten years ago) have all come close before… what can they produce this time?
Of course, there is also a whole pile of drivers keen to get their names up in lights also, some who want to emulate their family's efforts, like the Watson boys Joel and Patrick, some who are looking to bounce back after a rough last showing like Lee Austen , or even those looking to make an impact after a rough start to the season like the returning Rob Golding.
Add in names like Cory Smith, Declan Minchin, Aron Sharp and the returning Stuart Yates and we have all we need for what is sure to be another huge Title event this Saturday night at the Perth Motorplex!
Release by DTN Media.
Pics Courtesy Peter Roebuck.
Official Nominations – 16
3 Nick Rowe
4 Kaiden Manders
7 Tom Payet
9 Vaughan Manders
15 Rob Golding
17 Daniel Golding
26 Keenan Fleming
30 Aron Sharp
32 Stuart Yates
51 Beau Doyle
71 Daniel Harding
73 Declan Minchin
75 Joel Watson
76 Patrick Watson
89 Cory Smith
95 Lee Austen