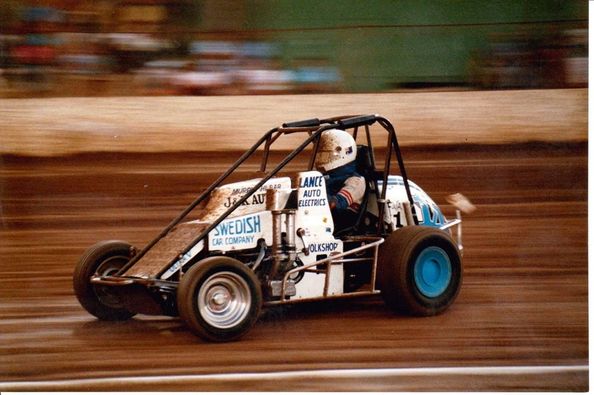 After another solid season, the time that we have all been waiting for has finally come around, the 75th Annual WA Speedcar Championship!
One of the longest running races in WA Speedway, the WA Speedcar Championship will this weekend be held at the Perth Motorplex for the sixteenth time.
Despite having its first run in the 1946/47 season, some seventy plus years ago where the title was won by Victorian Ken Wylie, there was a couple of years that the event was not held, meaning that this year is indeed the 75th running.
As already mentioned, since the Perth Motorplex's inception in 2000, the event has been held there a number of times, the first in that inaugural 2000/01 season where Neville Lance claimed his fourth title win, and since then not only has the event returned a number of times, but also Neville has won the title a further three times, coincidently two of which were also at the Motorplex.
These results totaled means that Neville has seven WA Title wins, leaving him tied on the all-time leader board with two other Speedcar legends in Johnny Fenton and Michael Figliomeni. If we go simply by wins, these three men, who have each recorded seven wins, account for over a quarter of all title wins in the events history. Fenton claimed his first in the 1970/71 season, then claimed five wins in a row from 1973/74 through to 1977/78, followed by a final victory in 1979/80. He also recorded four second place finishes in that time, meaning for a period of eleven years straight, he was never outside the top two finishers, an incredible record.
'Figs' recorded his first win in the 1992/93 season and he too won five straight, with individual victories in 1999/2000 and 2001/02. He also finished second once and third five times, meaning in a period of eighteen years he claimed a podium finish thirteen times, another incredible record.
Meanwhile, Lance claimed his first WA title podium in 1986/87 with a win, with his last podium appearance being in 2012/13 where he came third. This means that across those twenty seven years he recorded, along with his seven wins, two second places and three thirds, for a total of twelve podium appearances.
Dayne Kingshott is the next best with five wins, one second and one third place, an incredible seven podiums across last ten years while as we delve further into the history books we can see that the next best based on wins alone are Laurie Stevens, Ray Clarke, Keith Mann and Noel McDonald, who have all recorded three wins apiece. Interestingly, each of these drivers has a total of five podiums in the WA Title races, apart from Mann who has claimed nine overall, across fourteen years.
There have been a further ten drivers who have won two titles, the most recent addition to that list being Kaiden Manders who grabbed his second WA Title last season and comes in as the defending champion this weekend, while Tom Payet is also a multi time champion and would love to add another one this weekend.
Seventeen more drivers have one title victory, the last addition to that single winners list being was back in 2012/13 when New South Welshman Adam Clarke claimed his win.
There is also a huge list of fifty eight other drivers who have podiumed in the event, with greats such as Geoff Pilgrim recording five podium finishes but never actually taking home the coveted number one!
Keenan Fleming, Glen Mears, Vaughan Manders, Alfonso Guadagnino, Beau Doyle and most recently Nicholas Rowe are the only other active drivers to have come close to a win, but ultimately come up short: Fleming has two second places, Mears has a second and two third place finishes, while Manders, Guadagnino, Doyle and Rowe each have a third place finish to their names.
So who will add their name this weekend? Can Payet or Manders grab their third win? Or will we have another local break through for their first Title victory? There's only one way to answer those questions and that's to be at the Perth Motorplex this Saturday night!
Release by DTN Media.
Pics Courtesy JSP (DTN), Peter Roebuck and WASDA Collection.
2021/2022 Kaiden Manders Tom Payet Nicholas Rowe
2020/2021 Tom Payet Kaidon Brown (NSW) Alfonso Guadagnino
2019/2020 Tom Payet Keenan Fleming Beau Doyle
2018/2019 Dayne Kingshott Keenan Fleming Travis Mills (Vic)
2017/2018 Dayne Kingshott Michael Pickens (NZ) Glen Mears
2016/2017 Dayne Kingshott Glen Mears Darren Jenkins (NSW)
2015/2016 Kaiden Manders Lee Redmond Michael Harders (Qld)
2014/2015 Dayne Kingshott Lee Redmond Glen Mears
2013/2014 Dayne Kingshott Mark Brown (NSW) Scott Glazebrook
2012/2013 Adam Clarke (NSW) Dayne Kingshott Neville Lance
2011/2012 David Ellement Scott Glazebrook Vaughan Manders
2010/2011 Scott Glazebrook Todd Waddell Jason Roser
2009/2010 Neville Lance Rick Geneve Dayne Kingshott
2008/2009 Dene McAllan Neville Lance Tom Watson
2007/2008 Neville Lance Tom Watson Todd Waddell
2006/2007 Todd Waddell Jimmy Fleming Ernie George Jnr
2005/2006 Scott Glazebrook Neville Lance Michael Figliomeni
2004/2005 Neville Lance Jamie Oldfield Dene McAllan
2003/2004 Dene McAllan Scott Glazebrook Tom Watson Snr
2002/2003 Mark Glazebrook Jamie Oldfield Dean Beagley
2001/2002 Michael Figliomeni Todd Wanless (Qld) Neville Lance
2000/2001 Neville Lance Joe Little Mark Glazebrook
1999/2000 Michael Figliomeni Toby Gibb Neville Lance
1998/1999 Neville Lance Steven Graham (NSW) Michael Figliomeni
1997/1998 Tony Tucknott Joe Little Michael Figliomeni
1996/1997 Michael Figliomeni Graham Jones Tony Tucknott
1995/1996 Michael Figliomeni Joe Little Graham Jones
1994/1995 Michael Figliomeni Tom Watson Jnr Renae Watson
1993/1994 Michael Figliomeni Keith Giles Ian Watts
1992/1993 Michael Figliomeni Tom Watson Jnr Ron Pymont
1991/1992 Tom Watson Jnr Geoff Stanton Michael Figliomeni
1990/1991 Graham Jones Trevor Henderson Michael Figliomeni
1989/1990 Graham Jones Geoff Pilgrim Tom Watson Snr
1988/1989 Tom Watson Jnr Michael Figliomeni Graham Jones
1987/1988 Neville Lance Graham Jones Geoff Stanton
1986/1987 Neville Lance Tom Watson Snr Geoff Pilgrim
1985/1986 Kim Ledger Trevor Henderson Tom Watson Snr
1984/1985 Tom Watson Snr Kim Ledger Kevin Hilgert
1983/1984 Trevor Henderson/Laurie Matthews Fergie Donaldson
1982/1983 Keith Mann Graham Jones Kim Ledger
1981/1982 Trevor Mann Geoff Pilgrim Kim Ledger
1980/1981 Keith Mann Ray Brookes Richard Ballem
1979/1980 John Fenton Geoff Pilgrim Ray Brookes
1978/1979 Keith Mann John Fenton Noel Bradford
1977/1978 John Fenton Keith Mann Ross Nickisson
1976/1977 John Fenton Tony De Rosa Keith Mann
1975/1976 John Fenton Geoff Pilgrim Keith Mann
1974/1975 John Fenton Tony Derosa Des Nash
1973/1974 John Fenton Mal Miles Charlie West
1972/1973 Geoff Stanton John Fenton Tony Matta
1971/1972 Tony Matta John Fenton Keith Mann
1970/1971 John Fenton Geoff Stanton Keith Mann
1969/1970 Charlie West John Fenton Keith Mann
1968/1969 Noel McDonald Geoff Stanton Hank Vaanholt
1967/1968 Geoff Stanton Howard Revell (NSW) Noel McDonald
1966/1967 Noel McDonald Geoff Stanton Dave Simpson
1965/1966 Ken Hopkins Bill Jost Laurie Matthews
1964/1965 Noel McDonald Hilton McGee Laurie Matthews
1963/1964 Ray Clarke Noel McDonald Ken Hopkins
1962/1963 Laurie Matthews Ray Clarke Rob Greentree
1961/1962 Laurie Stevens Ken Hopkins Arthur McDonald
1960/1961 Laurie Stevens Ray Clarke Ken Hopkins
1959/1960 Laurie Stevens Ken Hopkins Bill Strickland
1958/1959 Ray Clarke Gordon Bell Stanley Fairfield
1957/1958 Ray Clarke Ron Hall John Motteram
1956/1957 Not Held
1955/1956 Gordon Bell Laurie Stevens/Slim O'Bryan
1954/1955 Bim Keith Jack McCormick Colin Lowe
1953/1954 Stormy Gale Laurie Stevens Slim O'Bryan
1952/1953 Johnny Hamilton Laurie Abbley Slim O'Bryan
1951/1952 Johnny Hamilton Jack McCormick Johnny Walker
1950/1951 Jack Howe Harry Lewis Vic Harris
1949/1950 Harry Lewis Could have been 1. Jack Howe, 2. Roy Arthurill.
1948/1949 Not Held
1947/1948 Jack Howe Barry Ranford Bill Stitt
1946/1947 Ken Wylie (Vic) Lew Murphy (NSW) Fred Allen (Qld)