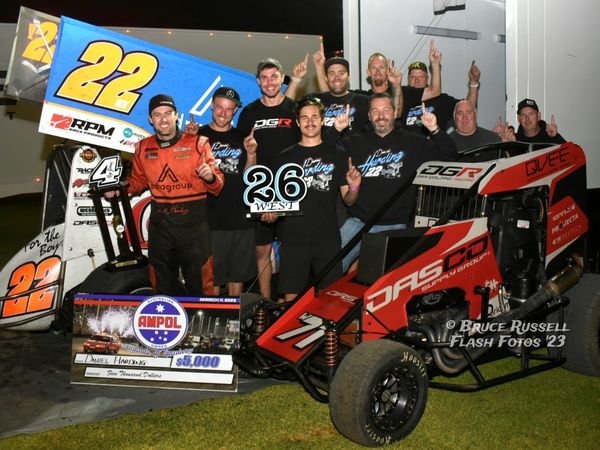 Last night at the Perth Motorplex was a historic one for Daniel Harding and the Dasco Supply Group team, winning both the Speedcar and Sprintcar features!
The event, being held as part of the Ampol Legends Night, saw Charlie West being honoured as a Speedcar legend and not only did Harding win the fifty lap Ray Geneve Sprintcar feature race, but also the twenty-six lap Charlie West Speedcar feature, joining a small group of drivers to have achieved the double feature win feat in Motorplex history.
Harding would open the night up strongly, recording a heat race win and then backing it up with a third place in the second heat behind winner Tom Payet and teammate Daniel Golding.
This would be enough to qualify himself off the front row alongside high points man Tom Payet in the eight-car field feature race field.
Unfortunately Kaiden Manders would be unable to start the feature after firing for the formation laps before pulling off, while Vaughan Manders, Patrick Watson and Lee Austen were also unable to make the call.
As the race went green it was Harding who shot into the lead ahead of Payet with Dan Golding locking into third.
They were followed by Beau Doyle, Cory Smith, Aron Sharp, Glen Mears and Joel Watson, with the yellows coming out after two laps when Watson spun in turn two.
The race was able to resume and the field was largely in the same order, the only change being Mears, guest driving the #26 machine normally piloted by Keenan Fleming, passing Sharp for sixth.
Two laps later Sharp would get back by him before Mears was able to retake the position another two laps later.
From here, there were no more positional changes, with Harding racing away and lapping the majority of the field, only the top three remaining on the lead lap. Harding would official be the winner ahead of Payet and Golding.
The next meeting will be the big one for the division, with the Perth Motorplex hosting the WA Speedcar Championship next Saturday night, which is sure to be a huge one, so make sure your plans mean all roads head to the Motorplex next Saturday night!
Release by DTN Media.
Pics Courtesy Cochrane Photography and Richard Hathaway Photography.
Official Results
Heat One, 8 laps: 1. Daniel Harding, 2. Kaiden Manders, 3. Tom Payet, 4. Vaughan Manders, 5. Daniel Golding, 6. Beau Doyle, 7. Cory Smith, 8. Glen Mears, 9. Aron Sharp. DNF: Joel Watson (5), Lee Austen (1), Patrick Watson (0). Total Time: No Time. Winning Margin: 0.360. Fastest Lap: 16.248 Kaiden Manders.
Heat Two, 8 laps: 1. Tom Payet, 2. Daniel Golding, 3. Daniel Harding, 4. Beau Doyle, 5. Cory Smith, 6. Aron Sharp. DNF: Kaiden Manders (7), Vaughan Manders (6), Lee Austen (5), Joel Watson (4). DNF: Glen Mears, Patrick Watson. Total Time: 2.09.225. Winning Margin: 4.996. Fastest Lap: 15.892 Tom Payet.
Feature, 26 laps: 1. Daniel Harding, 2. Tom Payet, 3. Daniel Golding, 4. Beau Doyle (25) 5. Cory Smith (25), 6. Glen Mears (25), 7. Aron Sharp (24). DNF: Joe Watson (
. DNS: Kaiden Manders, Vaughan Manders, Patrick Watson, Lee Austen. Total Time: No Time. Winning Margin: 4.993. Fastest Lap: 16.038 Daniel Harding.